January 30, 2012
Verify the Recall *UPDATED*
Over the weekend, we patriots in the Land of Cheese and Beer sharpened our teeth on the Van Wanggaard recall petitions as part of the
"Verify the Recall"
effort organized by the Wisconsin Grandsons of Liberty and the Dane County Tea Party.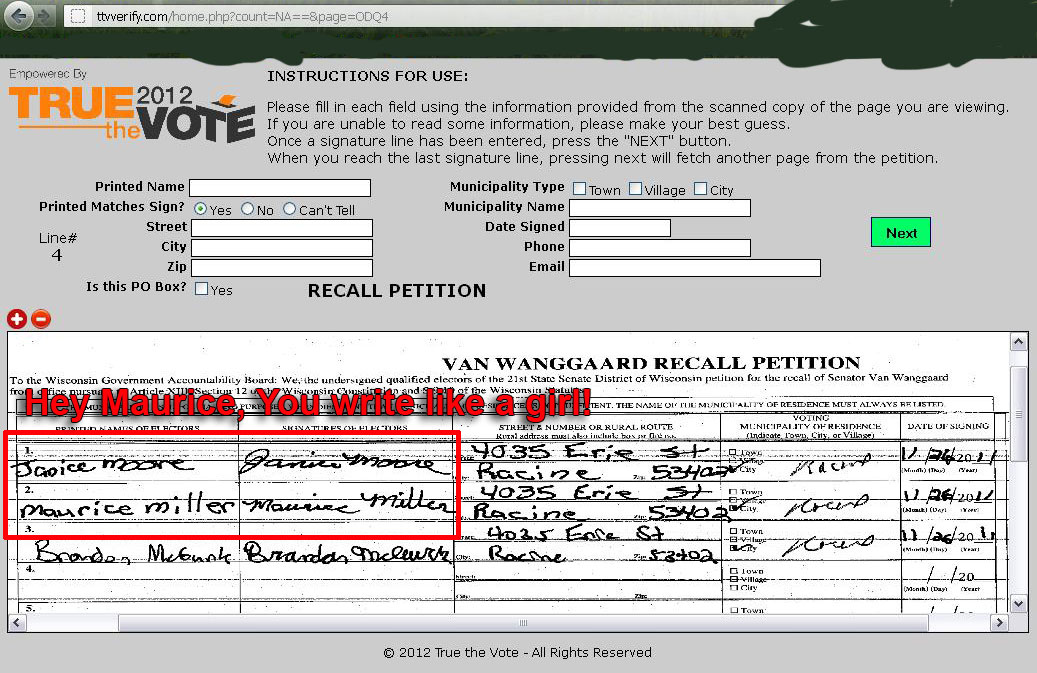 The communist bastards and useful idiots of the left in their pathetic recall attempt submitted
more than 24,000 signatures
in their bullshit attempt to recall Senator Wanggaard, which we chewed through "several times" over the course of 48 hours. In the first image, we see a case in which two people at the same address have remarkable similarities in their penmanship.
(Click to embiggen)
And as for the Main Event... the Walker Recall? The communist bastards at the GAB are stonewalling the release of the petitions online, which will only delay compiling the Database of Shame. The GAB commies claim they wish to protect the identities of "domestic abuse victims", but I suspect they are squirrelling away some of the more egregious fraudsters to use should they need a push over the top if huge numbers of signatures are forcibly tossed. As an example, here is a case where somebody got fucked up, signing their real name after printing their nom-de-guerre.
(Click to embiggenify)
Perfect fodder for the race to the finish for the bitterly partisan GAB.
Interestingly enough, and despite repeated assurances from the commie bastards at the WI-SDWP they had gone through the signatures to weed out obvious fraud and mischief, apparently they were as successful as they are at rational thought... which is to say, not at all.
The errors contained in the petition here are numerous and glaring.
Item 1)
"Pedro "Ventue"" cannot sign his own fucking name. That's pathetic.
Item 2)
"Cesaria Cortez" cannot sign his name, either. Instead, it is printed each time.
Item 3
"A-Git" probably is not a valid name. Like the SCOAMF, it is reasonable to suppose "A-Git" might have trouble producing a birth certificate proving that is indeed his name. Further, in
Item 4
), "A-Git" cannot legibly write his own address, and similarly, in
Item 5
does not seem to know what the Zip code for that address might be. The person who signed their name to the bottom of the petition certifying its validity should have their ass thrown in jail.
(One click to each image will serve you well if embiggening is your wish.)
The cases I have identified are the most obvious which I personally happened upon in the course of the petitions I entered to the database, and one can only imagine the level of fraud of types more difficult to detect. How many people comitted identity fraud, and how many dead people voted. Lizard claims that all dead people are democrats, being either dead-dead, or else just brain-dead. I believe her.
In closing, fuck the commies, fuck the SCOAMF, and may G-d Bless our beloved and honorable Governor Scott Walker.
UPDATE
I just received this in my inbox....
The Government Accountability Board is dragging its feet on getting the gubernatorial recall data to Verify The Recall, but we will not be deterred!
Verify The Recall planned to receive all gubernatorial recall data from the GAB today (Monday). Unfortunately, the GAB has been slow to supply us with our requested information. As a result, it now looks like it will be Friday of this week before you will be able to enter recall petition data into VTR's database for the gubernatorial recall.
All that said,

DO NOT BE DISCOURAGED

! Verify The Recall is fully ready to enter recall petition data for the remaining Wisconsin Senate races, so

we will spend the rest of this week verifying the recalls of Senator Fitzgerald, Senator Moulton, and Senator Galloway!

The data entry efforts required for Senator Van Wanggaard were completed this last weekend... One down, three to go!
Verify The Recall will be up and running again tonight (Monday, January 30) at 6:00 PM CST!
Your log in information is seen below. Thank you for volunteering to help uphold the integrity of Wisconsin's election processes!
Sincerely,
Verify The Recall
Posted by: the botnet at 08:20 PM | Comments (4) | Add Comment
Post contains 686 words, total size 8 kb.
1
SUV Waangard is out. Ha, you lose (r).
Posted by: stink at May 09, 2012 10:47 AM (PyLdB)
2
Huh?
Got a link for that?
Posted by: the botnet at May 15, 2012 07:45 PM (6PDiu)
3
<
www.fashiongal.co.uk
I simply wanted to opinion your blog in addition to say i definitely enjoyed reading your site post right here.
Posted by: www.fashiongal.co.uk at September 13, 2012 01:12 AM (nNgGj)
Comments are disabled. Post is locked.
19kb generated in CPU 0.03, elapsed 0.0713 seconds.
44 queries taking 0.0503 seconds, 119 records returned.
Powered by Minx 1.1.6c-pink.