February 26, 2012
PA Commies
Apparently people from Pennsylvania are interested in the Walker Recall. Get the Fuck Out, commie bastards.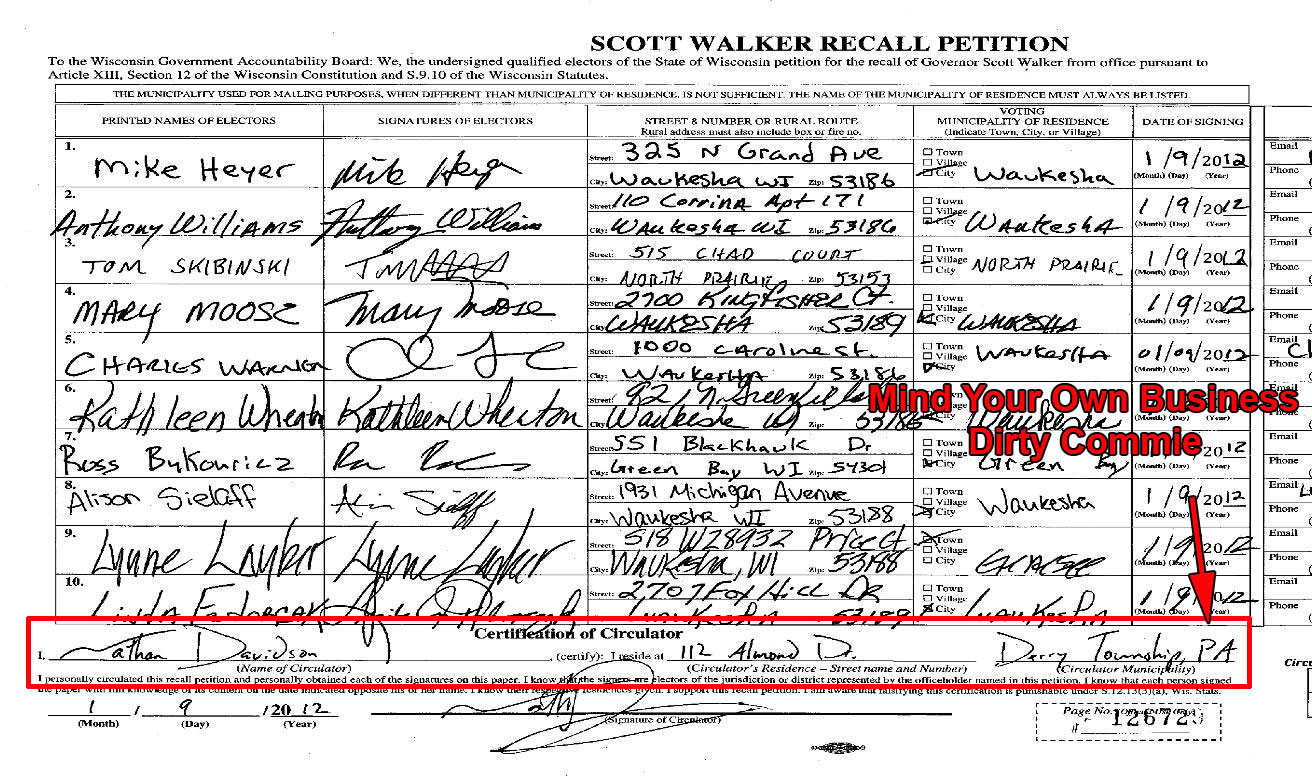 I have a bunch of examples of bullshit perpetrated by the Blue-Fisters on the recall petitions, and if it suits my fancy I'll share them here after the Verify effort is complete.
Posted by: the botnet at 07:33 PM | No Comments | Add Comment
Post contains 50 words, total size 1 kb.
Battle on 'Bago
This weekend was the annual "Battle on 'Bago" fishing tournament. I did not participate, due to other obligations... namely the final push on the Verify effort. Lil' botnet and I stopped by Menominee Park to see how many people were fishing, and were surprised to see that people had driven vehicles onto the ice. We had walked this area last weekend to check out the pressure crack, and at that point the only people traversing the area using motorized vehicled were ATV riders (and we thought THEY were crazy). The ice has been shit all year, and over the past week we were lucky to see freezing temps even during the night hours.
While it's entirely stupid to drive a vehicle on ice you aren't familiar with, it's doubly-stupid to park a vehicle on 8-inch ice. If you wish to be even stupider... park right next to another vehicle.
Click the photo to embiggen.
We've been on the ice all year, and it was surprising to see vehicles on the bays two weeks ago on 10-inch ice. Still too thin, and temperatures in the 40's sure doesn't make the ice any better.
I feel bad for the people whose vehicles fell through (two were pulled out of this spot before Lil' bot and I arrived), but for heaven's sake the ice has been terrible all year. Don't drive it unless you've tested it.
Click to embiggenify the photo.
Best regards to all, and I look forward to the Verify project wrapping up soon. TGFSW!
Posted by: the botnet at 06:29 PM | Comments (1) | Add Comment
Post contains 257 words, total size 2 kb.
February 17, 2012
Tell your Friends...
I've not posted here, or done much of anything else on the intertubes lately... I come home from work, have supper with the family, then hop onto the Verify The Recall site to enter signatures.
We have (finally) achieved the 75% mark for our data entry... and need help. If you can spare a bit of time; an hour here or there.... please consider joining our efforts.
From the Verify The Recall facebook site:
Thanks.
Posted by: the botnet at 07:15 PM | Comments (5) | Add Comment
Post contains 118 words, total size 1 kb.
19kb generated in CPU 0.04, elapsed 0.0858 seconds.
44 queries taking 0.0586 seconds, 124 records returned.
Powered by Minx 1.1.6c-pink.