December 08, 2012
Packer Tickets, 12-09-2012
I scored tickets for tomorrow's Packer game (versus the perennial failure Detroit Lions) where I'll be in the company of my lovely and darling wife, Mrs. botnet. Although the Pack hasn't lost at home to the Lions since 1991, there are no sure things in life, and I hope this turns out in our favor.
Packer tickets are supposedly difficult to obtain, given the length of the waiting list for season tickets (currently somewhere
around 96,000 name
s with a wait time of about
955 years
), but I've been lucky enough to curry favor with the right people such that I usually attend a game every year. To those who have yet to attend a Packer game at Lambeau: I am so sorry. Whether you are a Packer fan or something else, the Packer experience is something amazing. The good vibe, the friendly fans, the celebration that is a Packer game at home is like Woodstock without all the filthy hippies.
My seats: Right on the aisle, row 52. Here is a video of Brent "What's-his-face?" Favre's last (ever) play at Lambeau two seasons ago, shot from the same seats we shall occupy tommorow:
You'll notice the guy from Hibbing, MN seated next to me, he was a great guy and we shot the shit for a good portion of the game. You can see that as Moss dropped the Favre pass as time expired, the fellow from Hibbing and I shake hands, and I hope we end up hanging out again sometime the Vikings visit the Packers.
...Good people in Minnesota, and I like to think the Packer fans are hospitable and friendly as well, especially to visitors. Though Lambeau is Hallowed Ground, if you love football (and you're not a jerk) I would hope that every Packer fan would make you feel welcome.
It's going to be tough to top the glory of Favre's final defeat at Lambeau, but here's to the Pack mopping the deck with the Lions tomorrow.
GO PACK GO!
Posted by: the botnet at 09:59 PM | No Comments | Add Comment
Post contains 337 words, total size 2 kb.
December 03, 2012
On Loss... Year Two.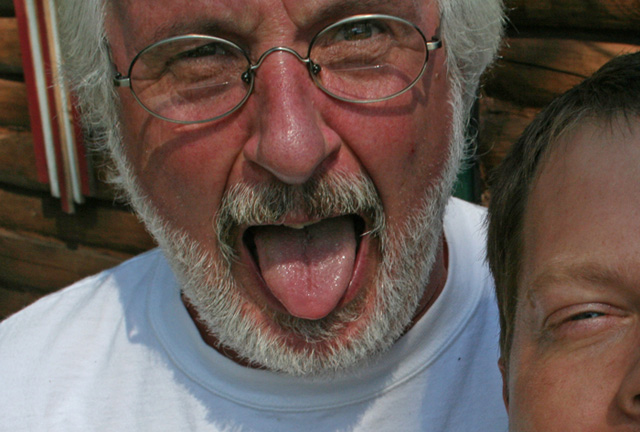 Today marks two years since I lost my best bud. Damn.
On the phone with his (and my) adopted brother "Al", we spoke deer hunting, family, spring turkey, friends, and kids... Bob hung on every word.
To you, Bob: I know you're watching us. Every word over the phone was about you, Al knows. I know. I'm not going to go bawling to Al when he's in worse shape than I... and we're both bawling. You know. Two years, man. Two years.
The womenfolk are getting along with life as well as you might expect. The little one is bright and misses you. I'm like a child, and for some reason my eyes keep watering.
Two years.
Posted by: the botnet at 08:42 PM | Comments (1) | Add Comment
Post contains 121 words, total size 1 kb.
15kb generated in CPU 0.03, elapsed 0.0573 seconds.
43 queries taking 0.0433 seconds, 117 records returned.
Powered by Minx 1.1.6c-pink.