March 07, 2012
Don't Get Mad... Get MOTIVATED.
First: After about a month of neglecting a bunch of other obligations, we have achieved a goal.
The
Verify The Recall Database
is live.
I've had difficulty getting on, either through legitimate traffic or DDoS, but that won't last forever. Then the commie hunt begins. I hope a bunch of corrupt bastards end up suffering the consequence of their fraud.
I'm happy to have seen the effort through, and I'm proud of the effort of the volunteers. I spent nearly every night since the petition release entering data... I could have done more.
Second:
"

We have danced and danced with Wisconsin politicians. We don't like to dance and we are now done dancing in Wisconsin. Forever

."
- an Unnamed Mining Company Representative.
The State Mining Bill went down today.
I'd like to stipulate that Senator Tim Carpenter is a weak-kneed, limp-wristed, commie bitch.
The contemptible piece of shit Dale Schultz (RINO-Richland Center) sided with the commies to shoot down the State Senate mining bill compromise. The bill was not to approve the proposed iron mine (in the State's most economically depressed area), but to allow a process in which there was a tangible endpoint. The mine proposal would still have had to wade through the alphabet soup of departments, bureaus, and agencies in order to obtain a permit, but the mother fucking commies (including Dale Schultz) pretended all the while that everybody would glow in the dark and have three-eyed babies if a mine were allowed to APPLY to operate. Who cares there are mines operating in harmonic compliance with EPA regs less than a quarter tank of gas away... And who cares that the average family income in the area of the proposed mine is $23,000 per year.
The State Senator currently holding office in the district in which I live is a commie. You may remember
Jessica King
from her love-fest with the "
Fuck The Troops
" blogger Ian Murphy. Senator King the commie won our district Senate seat in a recall against Randy Hopper by a margin of about 1,200 votes (around 1% IIRC) in a district that trends 56% conservative. In my eyes, she was the deciding vote against the mining permit application process streamlining... and therefore it was her vote which prevented a $1.5 billion dollar job-creating endeavor in an economically-depressed area. She and she alone is responsible for strangling these jobs before they could ever leave the crib.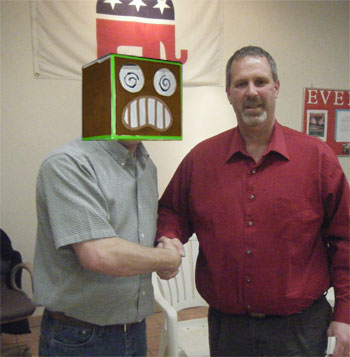 The good news: She Has A Challenger.
Meet Rick Gudex.
His website currently stinks, but that can be fixed. What the guy DOES have on his side is organization, drive, goals, an articulate message, and a weak, gaffe-prone communist opponent who barely managed to win office despite a highly-motivated base against a flawed incumbent. I'm going balls-deep on the Gudex campaign, and I believe that with hard work he will win.
Jessica King: Hope you've had fun. Get the fuck out.
Posted by: the botnet at 10:36 PM | Comments (7) | Add Comment
Post contains 489 words, total size 4 kb.
Posted by: Lizard at March 11, 2012 09:55 PM (kAaY/)
Posted by: the botnet at March 13, 2012 06:04 PM (6PDiu)
Posted by: Lizard at March 18, 2012 03:32 PM (kAaY/)
Posted by: www.fallfashions.co.uk at September 13, 2012 01:06 AM (nNgGj)
Posted by: www.cheapdurpalhosting.com at November 01, 2012 05:36 AM (nejgS)
Posted by: salwar kameez at November 26, 2012 03:40 AM (HdEg/)
Posted by: mens indowestern at December 04, 2012 06:14 AM (L+qUd)
Comments are disabled. Post is locked.
18kb generated in CPU 0.03, elapsed 0.0596 seconds.
44 queries taking 0.0415 seconds, 123 records returned.
Powered by Minx 1.1.6c-pink.