January 16, 2012
Occupy Lake Winnebago
Today was beautiful, and though the warm weather made for comfortable fishing, it wasn't helping the ice.
I hooked up with "The Prison Guard" and one of his buddies early this morning to fish off Fahrney Point (locally known as the "Jesuit Retreat"). It's a bit south of where I typically fish, but we had heard the perch were hitting out there, so we decided to take a shot.
The arrow points to the Jesuit Retreat, and feel free to embiggenify by clicking the image.
I drank almost all of the beer in my fridge during (and mostly after) the season-ending Packer loss to the Giants yesterday evening, and slept a bit later than intended. I made it to the ice at about 7:15 with the sun just breaking the Eastern horizon.
It's a bit of a walk to reach the opening of the bay, and I was happy for it because breaking a sweat (dragging about 150 lbs of gear) cleared some of the cobwebs.
(Click the image to do something, or something.)
As you can see, there is a long channel to traverse before reaching the fishing spots (labeled "first" and "second" in the order we fished them). Snow on the ice makes it much more difficult to haul gear than glare.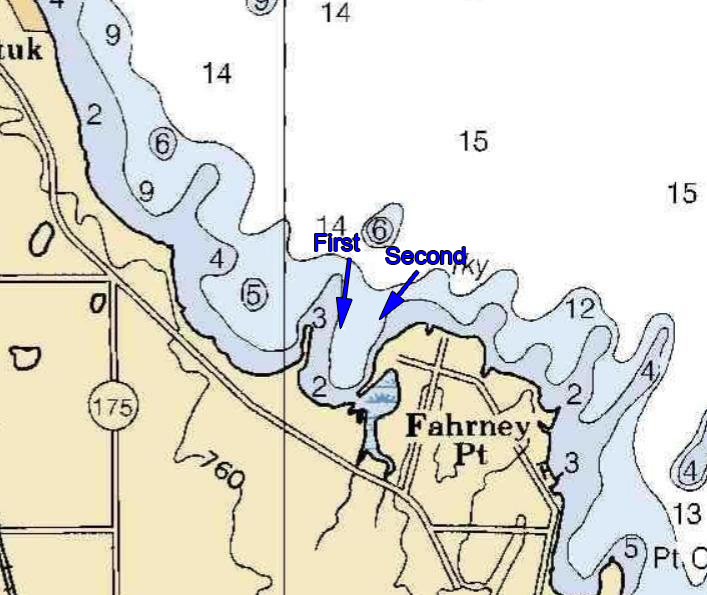 Our first set of the day was in about 8 feet of water on 4 inch ice. There was plenty of perch action, but most were too small. It is kind of a pain in the ass to continually re-bait your jig after some runt stole your grub. We sat for a while jigging (while our tip-ups saw no real action), then decided to move.
The second set was in about 10 feet of water on about 2 to 3 inch ice. A bit thin for my taste, but what the hell. To reach the second spot, we had to traverse a pressure crack... not usually a big deal, but our ice has been poor all year, and going past the point the ice is even worse than the bays.
I was in the lead as my buddies were wrapping up their gear when I set off. We cross pressure cracks all the time, and you're always watching for crap ice. In this case, there was open water hidden under a veneer created by blowing snow collecting on an open crack. The snow sucked up water from below which froze in a thin shell across the top. It looked fine until you walked it. The point marked "A" is where I stepped through the hidden crack, and point "B" is where "The Prison Guard" stepped through damn near to his balls, soaking his boot and spilling his gear everywhere.
I used the fishcam all day, and we hit plenty of perch, along with a few white bass. I saw a sturgeon on the cam for my first time, which was pretty cool.
I did not catch the first fish, nor did I catch the biggest or most. There's always next time.
And lest I forget to mention, Barack Hussein Obama is an affirmative-action communist limp-wristed femme.
Posted by: the botnet at 08:54 PM | Comments (1) | Add Comment
Post contains 523 words, total size 4 kb.
January 15, 2012
No Joy in Titletown
The score? Lots and lots of points against too few. The "dagger" (try a google of "
wayne larrivee dagger
" if you don't recognize the reference) came in the middle of the fourth when the Pack was down two scores and allowed a first down giving the Giants the opportunity to score their final TD to complete the braining of my beloved Pack.
It was a fun, fun, FUN!!!! season, but with a shit defense like we fielded all year, no team should expect to be a contender. Couple the shit defense with three lost fumbles, a receiver corps with a case of the "dropsies", and a stellar QB (#12, Aaron Rodgers) who over or under threw too many passes and you have yourself a loss... and not just any type of loss, my friends... A season-ender. Despite the best efforts of the referees to throw the game in favor of the Pack, the game was lost.
(image stolen from http://www.sportprediction.net/)
If you look on the bright side, at least Aaron Rodgers will have the opportunity to play in the Pro Bowl, but I'm not inclined to look on the bright side right about now. I'm more inclined to swill the rest of the Milwaukee Best in the refrigerator, then kick my dog in the balls. Except I don't have a dog. And it isn't his fault anyway, hypothetically.
Alas, the Packers snatch a season-ender from the jaws of fait accompli. I suppose I'll mourn for a while, then find something else to do. I hate basketball, and baseball is a couple months away.
Crap.
Tomorrow: Your Lake Winnebago ice fishing report. I predict I shall catch the most, as well as the biggest.
And one last thing.... Barack Hussein Obama is a limp-wristed dickless SCOAMF.
Posted by: the botnet at 08:55 PM | No Comments | Add Comment
Post contains 299 words, total size 2 kb.
January 11, 2012
"Fuck The Troops", Wisconsin State Senator Endorses.
It never ceases to amaze me, the depths of depravity to which the commies will sink. Here's a taste:
The fact this filthy piece of shit Ian Murphy is held up by the left as some
kind of fucking hero
for
punking the Great and Noble Statesman Governor Scott Walker
serves as a reminder of the type of weapons-grade idiocy we suffer from those whom we oppose. These are the people who seek to run this place. They believe they are right, and we are wrong. They call us stupid.
What you have here is State Senator Jessica King (Marxist-Oshkosh) yukking it up with their clever hero,
out collecting signatures in their attempt to dispose of Governor Walker.
Jessica King rode the wave of commie fury at the bold and honest actions of Governor Walker (and the brave Statesmen in the state legislature who passed Act 10) to get her rump elected in the State Senate Recall election. She must be so proud.
I'm sure that Jessica King (Commie - District 18 ) and the ingrate piece of shit Ian Murphy are great pals... Fellow travelers.
I question not only Jessica King's judgement, but her patriotism. Surely she knows about Ian Murphy's disgusting bullshit. And since she hasn't taken the time to issue a statement one way or the other, one can only imagine she isn't embarrassed in the least.
I'm betting she agrees.
Email State Senator King:
Sen.King@legis.wisconsin.gov
h/t:
Sykes Writes
Posted by: the botnet at 09:52 PM | Comments (3) | Add Comment
Post contains 327 words, total size 4 kb.
25kb generated in CPU 0.02, elapsed 0.0624 seconds.
43 queries taking 0.0426 seconds, 87 records returned.
Powered by Minx 1.1.6c-pink.